Unit Availability Calendar
Please choose the duration of your stay and then select a date from the calendar.  Reservations are from Saturday to Saturday.
Once you have selected your date, a list of available rental units will display below the calendar.  You can then select whichever unit appeals to you.
CALENDAR LEGEND
| COLOR | DEFINITION |
| --- | --- |
| | ALREADY BOOKED OR RESERVED |
| | PAST DATE (Not selectable) |
| | PREVIOUS OR FUTURE MONTH (Not the month selected) |
| | HIGHLIGHTED DATE (with cursor) |
| | SELECTED DATE RANGE |
If you have any questions regarding pricing, availability or any other general questions for Edgewater Condominiums, please use our Questions and Inquiries Form.
You may search for units available for a specified time period by clicking on the calendar above.
Weekly rentals are from Saturday-Saturday.
Monthly rentals are available September-May, and the start day is negotiable.
To find out which units that are available for a specified time period, you first click the "1 Week", "2 Weeks", "3 weeks", or the "Monthly" button on the calendar. You then click the date on the calendar that you want to check. If you have "1 Week", "2 Weeks", or "3 Weeks" checked the rental period will be assumed to be the Saturday before the date you click (or the Saturday that you click). If the "Monthly" button is clicked the date you click will be assumed to be the first day of the rental period. A list of units available for the period you specified will then be displayed.
General Unit Descriptions and Photos
All rental units are fully furnished with living room, dining area, fully equipped kitchen, two bedrooms with plenty of closet space, and two baths. Beautiful, expansive views of the oceanfront are available from the living room and the master bedroom, with a private balcony above the beach, just off the living room. All units are equipped with air conditioning, heat, cable TV, and VCR. Laundry rooms are just outside your front door. All rental units are individually owned and decorated according to the tastes of the owner. A standard unit floor plan is shown to the right. Please click the "Images and Information for All Units" button to the right to get a list of links that will allow you to see details of all units.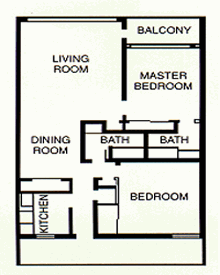 Individual Units by Floor